Church Update - Sep 10
All the latest news and info at GBC!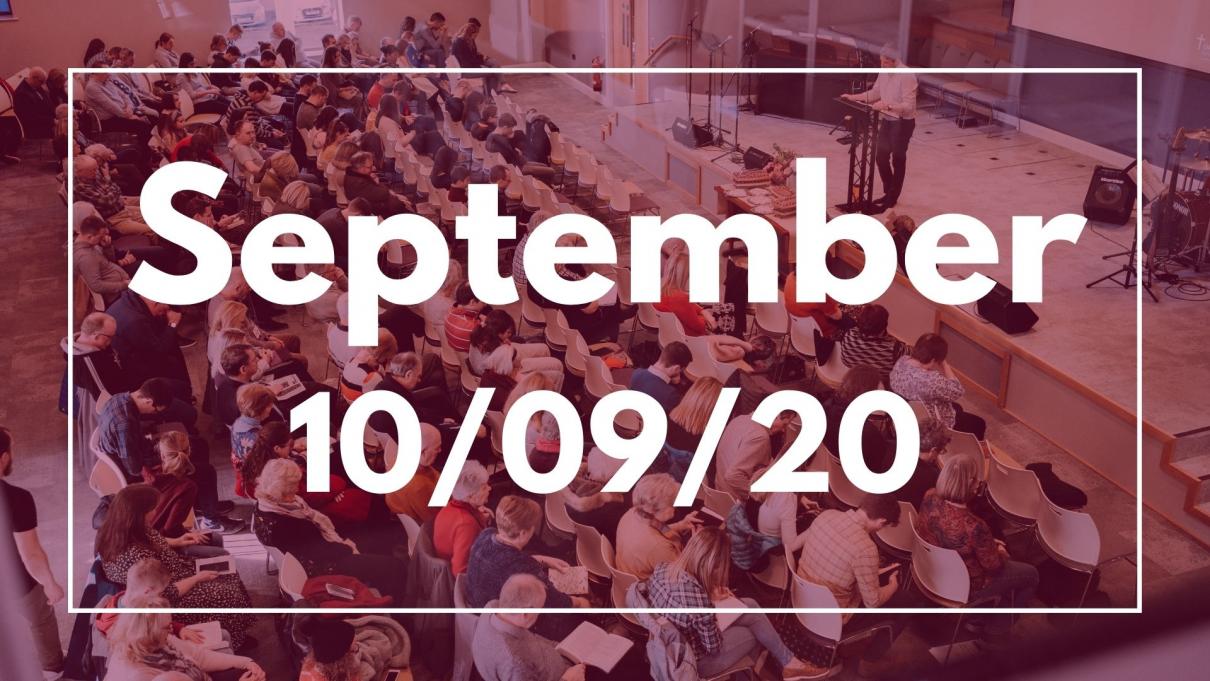 'And let us consider how to stir up one another to love and good works, not neglecting to meet together, as is the habit of some, but encouraging one another, and all the more as you see the Day drawing near.'
When gathering is not what we hope it will be… will we forsake meeting or neglect one another? No! We need to stay committed and get creative. We need to consider afresh how we can show practical concern for each other? How we can do one another spiritual good? How we can keep on spurring each other on?
WHY? This is what God's Word calls us to do!
Gathering is not just about the vertical, it's also about the horizontal. It's not just about loving God, it's also about loving one another and seeking each other's good as we see the day of Jesus' return approaching…and make no mistake it is approaching…soon and very soon we are going to see the Lord!
This is a vital teaching moment for us as a church family- the challenges we face this Autumn with some of us able to come out and some not…this is a moment when we get to be church to one another maybe like never before…but it requires all of us.
GATHERING as church is something we need to value, pray about and commit ourselves to afresh- God has called us to be people that love Him and love one another.
Because you see at the end of the day, only He can do that kind of work…as His Spirit exposes our selfishness… and humbles us by showing us once more the selfless service Jesus has rendered on our account at the cross of Calvary.
(Hebrews 10: 24 – 25 // Reflection from CHURCH: Compelled to GATHER)
Beneath the cross of Jesus
His family is my own
Once strangers chasing selfish dreams,
Now one through grace alone.
How could I now dishonour
The ones that You have loved?
Beneath the cross of Jesus
See the children called by God.
---
What's happening this week…
Sunday Sep 13
9.50 am Prayers of the Saints (via Zoom)
Join us on Zoom as we begin the day in prayer together.
10.30am Morning Worship (Online Broadcast)
Church: Committed to Grow (Pastor Jonny McGreevy)
Continuing our series on CHURCH and also launching our new season of Growth Groups.
11.45am Sunday Club Catch Up (via Zoom)
Parents and Sunday Club kids – this is for you! An opportunity to have a quick catch up and encourage each other. Details will be sent with the Family Resource.
12 pm GBC Youth Zoom
Year 8 – Upper 6ths. Continuing the study in James. Zoom details have been shared with parents. If you have not received them please email: youth@greenislandbaptist.com
7pm Evening Service (In Building and Online Broadcast)
Praise my Soul: Healed (Pastor Jonny McGreevy)
Surnames H – Z who registered should receive a confirmation text by Fri Sep 11. This service will also be livestreamed and is available via these channels:
YouTube Channel
https://www.youtube.com/GreenislandBaptistChurch
Facebook Live
https://www.facebook.com/GreenislandBaptist
Sermon.net
Online Church
https://greenislandbaptist.online.church/
Wednesday Sep 16
8pm TOGETHER / a p a r t (via Zoom)
This week we are studying Psalm 11. Questions will be shared on the website on Monday.
---
CHURCH: Committed to GROW
Autumn/Winter Growth Groups
As part of our new teaching series CHURCH we recognize that we are 'Committed to GROW' – both personally and collectively. This Sunday we will launch a new season of Growth Groups at GBC. Growth Groups are an opportunity to meet with others in smaller groups to study God's Word and to share fellowship together.
**Please note that due to current regulations all Growth Groups will begin the year on Zoom.**
Here are the options available:
Mondays - Men's Precepts Study
Weekly at 7.30pm (from Oct 12)
'How to make choices you won't regret' is a 6 week, no homework bible study about how the decisions you make today can shape your life tomorrow. Taking you through the Old and New Testaments and using examples of King David, King Josiah, and Jesus Himself.
Group Leader: Stephen Broad
---
Tuesdays - Ladies Precepts Study
Weekly at 10am (ongoing)
Currently studying Philippians, the Ladies Bible study are looking forward to welcoming new members as they move to a new study.
Group Leader: Janet Broad
---
Tuesdays – Book Club
Monthly at 7.30pm (from Oct 27)
The first book under the spotlight is 'Gentle and Lowly' by Dane Ortland – a book that reflects on Jesus' words that he is 'gentle and lowly in heart' and what it means for sinners and sufferers today. Order the book here (https://www.thegoodbook.co.uk/gentle-and-lowly) and join in as we discuss it together.
Group Leader: Jonny McGreevy
---
Wednesdays – Homegroup Bible Study
Fortnightly at 8pm (from Oct 7)
Journey through 2 Corinthians considering the Gospel in all of life. For Paul, gospel ministry is what we all do. It is walking with, speaking for, and serving Jesus in all of life—and so this letter is written for all of us. Taking us through how to live by faith as broken people in our broken world. It provides the key to embracing our weakness and living in the strength which God himself supplies.
Group Leaders: Tim and April Matchett
---
Thursdays – Homegroup Bible Study
Weekly at 8pm (from Oct 1)
'Two for One' study. October to early November 'Haggai - Being a Pillar in God's House' November to early December 'Four Songs of Advent'. All study materials provided via a free e-workbook. No homework required!
Group Leader: Frazer Bailie
---
---
Staying Connected
Opportunities to Serve
There are many ways to get involved at GBC and one of these is joining a team and serving the church with others. There is an urgent need in the following areas:
There are also opportunities to serve in our Kids and Youth Ministries.
If you think you could help please email: april@greenislandbaptist.com Full training will be provided.
You can also stay connected by following us on social media, subscribing to our YouTube channel and visiting our website for all the latest news and information.