Church Update - 22 May 2020
Latest church update, info and encouragement for this week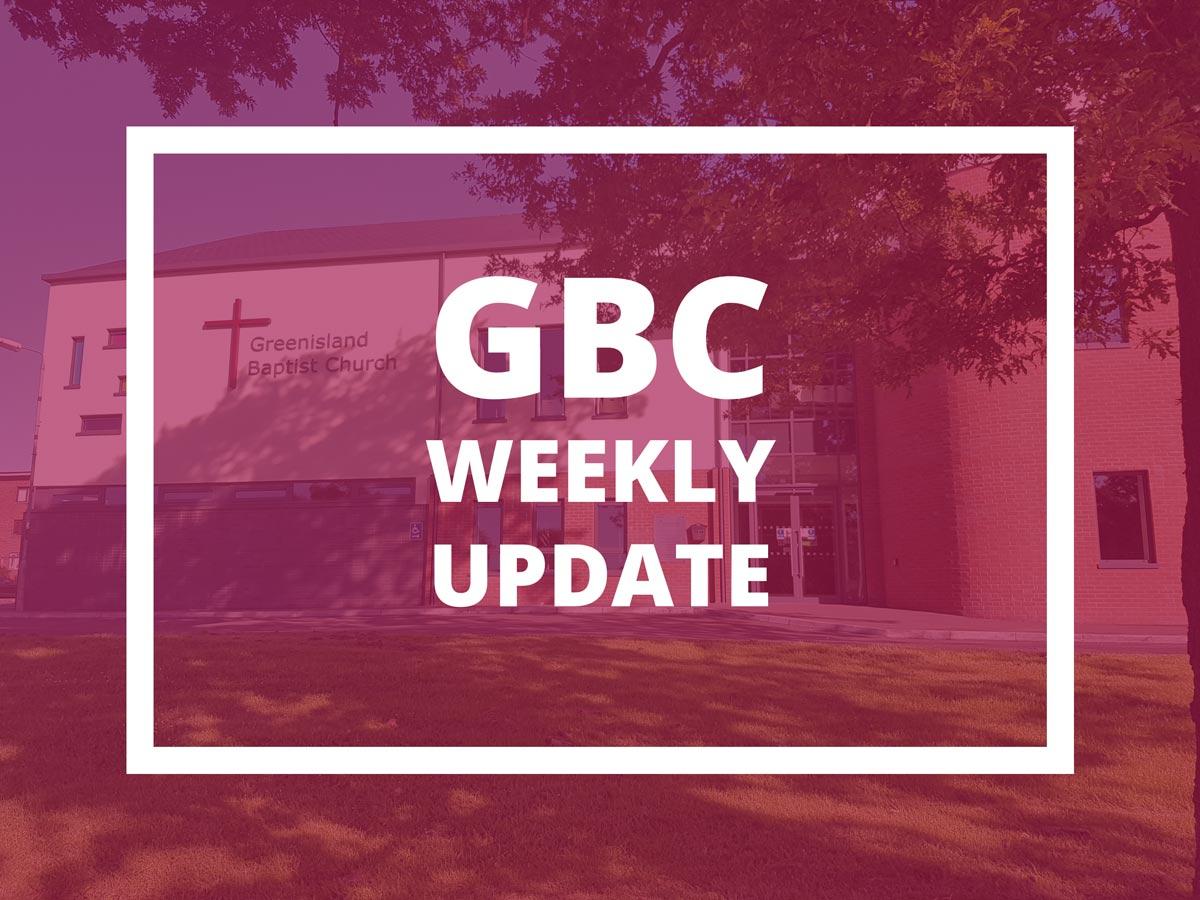 The Word became flesh and dwelt among us, and we have seen his glory, glory as of the only Son from the Father, full of grace and truth.
(John 1:14)
Dear Church Family,
I wonder in this season of lockdown have you found it difficult at times to express love or concern for others? I know I have. Perhaps like me, you have realised the limitations and potential frustrations that go with things like phone-calls, emails and WhatsApp messages. Maybe right now you are suffering from a bit of zoom fatigue. It's true isn't it…that nothing really trumps actual face to face contact.
The good news of the bible is that we have a God who did more than reveal His heart and will through prophetic messages (at many times and in various ways) …But eventually, climatically and wonderfully He condescended to put on flesh and came down in the person of the Lord Jesus! The creator chose to meet with His creation face to face.
Why did God choose to come to us in this way? It's because He knows that we were not made to be socially-distanced from one another, and even more importantly we are not made to be spiritually-distanced from our maker. The terminal virus of sin had not only endangered our lives eternally but cut us off from the one who is life itself- God. But praise God the remedy for our alienation and eventual annihilation was given in Jesus- the one who is full of grace and truth. It's good to be reminded of these things isn't it. To remember that we have good news to trust in, and tell to others.
Recently an American celebrity (some of you know him as Jim Halpert and others as Jack Ryan) ran a short you-tube series called SOME GOOD NEWS. In this spoof-news bulletin, he wanted to point people in this time of Global crisis to some positive stories; to remind us of the good things that are happening all around us if only we take the time to notice.
In a similar way, God has called us as His people to be His news-anchors (so to speak). We have been commissioned, anointed and empowered to tell others the life-restoring message of His love and grace revealed to us in the person and work of Jesus. At a time when we can't do face-to-face that means we need to be all the more creative, proactive and intentional with others…Let's continue to pray for each other in these days; that God will help us to rise to the challenge. And let's not forget what we have been given to share with others is not just good news, it's the best news ever!
Pastor Jonny
---
Coronavirus Update
You are probably aware that lock down restrictions have been eased slightly in Northern Ireland. The Executive permit drive-in church services and church buildings to be opened for prayer.
The Elders have discussed what these options would look like for GBC…
In terms of drive-in church this simply wouldn't work for our location on Glassillan Grove, both in terms of limited car-park space and the need to be good neighbours to the surrounding flats and houses. If anything, going this route for Sunday Worship would actually mean we reach far fewer people than we do currently on-line. It would also be difficult for us to make such a service applicable for all-ages, and require a huge amount of complicated logistics to run, as well as risk to those involved due to the need to social distance.
In terms of prayer in the building we do not believe that we need to be in the actual building to be able to know God's presence (Acts 17:24), or that praying in the building (as much as we appreciate it as a facility for ministry to happen) is any more special or blessed than praying in our closets as Jesus recommends (Matthew 6:6). Also, right now prayer, even in small groups, is just not possible with current restrictions only allowing groups of up to 6 to meet outside. The opening of our building for prayer would involve a significant amount of work to make it secure, and to keep up with the necessary cleaning, policing social distancing, and all the while making sure we do not disrupt or jeopardize the safety of those already in the building working for CAP. In short this would involve a risk to our staff and our people, that we just don't believe is necessary or wise to take at this time.
Right now, as we consider the Roadmap to Recovery set out by The Executive with its various stages of easing lockdown, and the way we function at GBC; we do not believe any changes will be made to the way we do church, at least not until the end of the summer months at the earliest. We will however continue to monitor the situation and update you on any changes we make in accordance to government guidelines. We will also continue to work hard at offering our on-line broadcasts, and the other groups and studies we have on Zoom. (Right now, planning is underway for the summer programme; and we are thinking in particular of how to reach our children and young people, as school comes to an end and a long and very different summer awaits them.)
We fully understand and SUPPORT the desire we all have to gather together as the people of God…BUT as we've seen in the news with the issue of schools re-opening; there is much to consider as we try to weigh up benefits and risks, with the virus still very much with us. Please know this is a matter of considerable and ongoing prayer for the Elder team. We would also ask you to pray that the Lord grant us wisdom, and protect the unity of our church family; as together we try to honour Him and navigate this difficult and unprecedented situation.
---
What's happening…
This Sunday 10.30am
We will be continuing our series in Hebrews 1:1-3, considering how Jesus is our better PRIEST.
We will also be celebrating Communion together after the sermon. So please be prepared to take part with some bread and juice.
---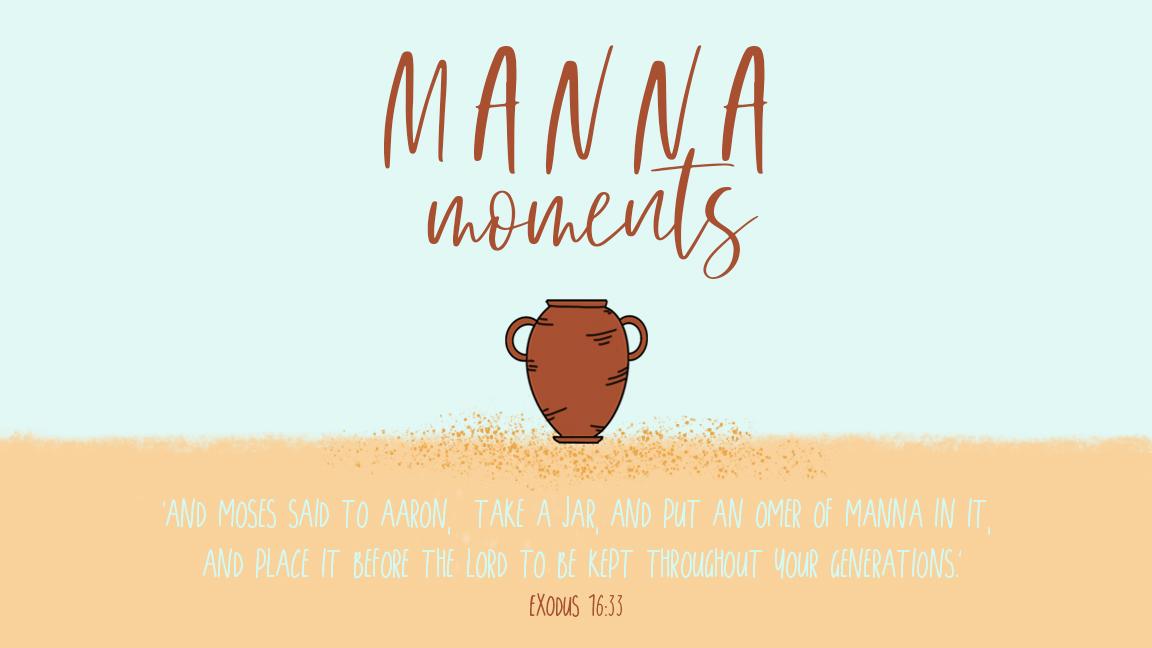 Manna Moments
To make room for communion this Sunday morning there will be no Manna Moment in the broadcast, but a fresh one will go online on Thursday again! Please be sure to check these out and feel free to share them with others.
We are grateful to all who have contributed so far, and so thankful for how our faithful God speaks HOPE into the lives of His people, even in times of wilderness and personal struggle.
---
Church Prayer Meeting
meets again this Sunday May 24th at 7pm on Zoom.
This will involve one of the leadership team bringing a brief word of encouragement and sharing prayer points, and then around 30 mins of praying together.
The Zoom link and meeting details are included in the covering email. The host this week is Louise. Please contact her if you are having any issues: louise@greenislandbaptist.com
Pastoral Care- The Elders and Pastoral Staff are keen to maintain contact with you. Our hope is to provide a continued sense of connection, and give you whatever spiritual encouragement and support we can.
If you have a pressing need, as well as contacting the Pastor, you can also contact the prayer phone which is being passed around our Elder and Staff team on a rota basis. If you don't get us straight away then please leave a voicemail and we will get back to you asap. Just a reminder of the number: 07410 902541
Also, if you want to receive regular prayer texts then just text "JOIN" and your name to that number and we'll add you to the list.
---
CAP
Jacqui and her team are continuing to distribute food hampers to folk in our local community who are finding the present crisis particularly challenging. (Over 300 hampers have been delivered in the past 8 weeks). If you would like to contribute non-perishable food items you can drop donations off in the church entranceway on Wednesdays and Fridays between 1pm to 3pm.
Or if those days/times don't suit you or if you are shielding and you would still like to give, you can donate directly to the CAP account and then Jacqui will buy the hamper items that are needed.
CAP Account: Sort Code: 950611 Account No. 70087017.
Every hamper is making a difference. Thank you!
---
Church Members Meeting
Tuesday June 16th at 7.30pm
As you know we had to cancel our meeting back in March, but we do still have business to take care of. We are hoping to host an on-line meeting via the church Zoom account.
Pat will be issuing an agenda and written reports to the members on Sunday June 7th via email. We will also be soliciting any questions or feedback in advance of the meeting, as the possibility for much interactive discussion will be somewhat limited. After the meeting takes place the members will have access to an on-line voting system. Plenty more information will follow, but please save the date!
---
We need your Feedback…
This week the parents of our children and youth will receive an email which includes not only the regular resources for Sunday, but also a survey. This is to help us get a sense of what has been useful for you as a family, as you've navigated doing church during lockdown.
We are mindful of the limitations of what we as church can offer on-line, and also recognise the challenges (and REWARDS!) in store for parents as they seek to teach and disciple their kids at home. Can you help us as we strive to develop resources and programmes for the summer months which are effective and hopefully serve your family's needs?
PLEASE be sure to fill out the surveys and return them by May 27.
---
Be Equipped…
This week I am including with our update a PDF of a great wee tract by John Piper called "FOR YOUR JOY".
No doubt you have seen these lying around the church lobby and maybe you gave some out last year at Community week… BUT HAVE YOU ACTUALLY READ IT??
It's important that we know the Gospel well in order to share it effectively. So, why not grab a coffee at some stage this next week and work through this short book as a means of being encouraged, but also as a way of being better equipped to share the good news with others.
Download your copy here:
https://greenislandbaptist.com/download/file/be-equipped-for-your-joy/
---
How sweet the name of Jesus sounds
In a believer's ear!
It soothes his sorrows, heals his wounds,
And drives away his fear.

It makes the wounded spirit whole
And calms the troubled breast;
'Tis manna to the hungry soul,
And to the weary, rest.

Dear Name! the Rock on which I build,
My Shield and Hiding Place,
My never-failing Treas'ry filled
With boundless stores of grace!

Jesus! my Shepherd, Husband, Friend,
My Prophet, Priest, and King;
My Lord, my Life, my Way, my End,
Accept the praise I bring.