Church Update - Sep 24
All the latest news and info at GBC!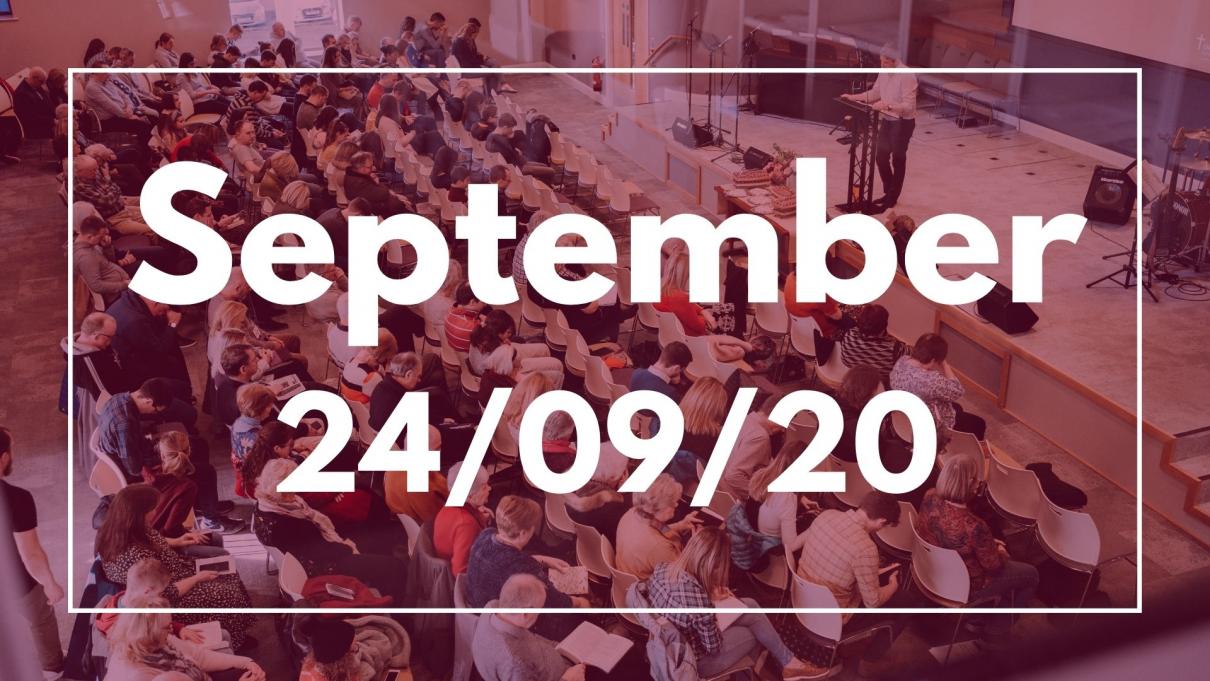 'Therefore, let us go to Him outside the camp and bear the reproach he endured. For here we have no lasting city, but we seek the city that is to come.'
Jesus went outside the city gates for us. He went to the cross where His body was broken and His blood poured out not just for our salvation but for our sanctification!
And we are called to GO and join Him – to move from comfort towards need.
Like Jerusalem, the church is great and gathering with the people of God is great and hearing the word of God preached and lifting our voices in the praises of God is great…
BUT then there comes the point where you have to GO and actually live the life. And if you're living the life authentically this will inevitably mean sacrifice and suffering as you seek to reach others.
There will be a cost because the exclusive truth claims of the Gospel are not popular (so that will bring opposition) and because bearing the fruit of the Gospel in our lives involves will mean no longer conforming to the pattern of this world (and that will be provocative and counter-cultural).
But this is what we are called to do!
When Jesus left the city gates it was for one reason- to accomplish the mission of God to save a people for Himself. Now we too are being called to leave the confines of our comfort zones and move toward those in need- those in great spiritual need. We are being called to join Jesus in accomplishing the will the Father sent Him to accomplish- that is the redemption of the world.
God has a purpose for us: He has saved and sanctified us to GO with Him outside the city wall- the location is not specified of course- it could be near or far- but the point is we need to be willing to leave what is comfortable and go toward need- and make no mistake this world is in need- in need of rescue.
So, with willing hearts in word and deed we must GO and share the Good news.
(Hebrews 13: 13-14 // Reflection from CHURCH: Commissioned to GO)
Were the whole realm of nature mine,
That were a present far too small;
Love so amazing, so divine,
Demands my soul, my life, my all
---
What's happening…
Sunday Sep 27
9.50 am Prayers of the Saints (via Zoom)
Join us on Zoom as we begin the day in prayer together. Details in the covering email.
10.30am Morning Worship (Online Broadcast)
ENCOUNTER (see note)
With Made for More and featuring all ages of our church family
12 pm GBC Youth Zoom
Year 8 – Upper 6ths. Continuing the study in James. Zoom details have been shared with parents. If you have not received them please email: youth@greenislandbaptist.com
7pm Evening Service (In Building and Online Broadcast)
Praise my Soul: FORGIVEN (Pastor Jonny McGreevy)
Surnames H-Z who registered should receive a confirmation text by Fri Sep 25. This service will also be livestreamed and is available via these channels:
YouTube Channel
https://www.youtube.com/GreenislandBaptistChurch
Facebook Live
https://www.facebook.com/GreenislandBaptist
Sermon.net
Online Church
https://greenislandbaptist.online.church/
Tues Sep 29
10 am Ladies Precepts (via Zoom)
Continuing study in Philippians
Thursday Oct 1
8pm Homegroup Bible Study - Haggai (via Zoom)
Our Thursday Growth Group gets underway with a study in Haggai.
(Please email info@greenislandbaptist if you need more information on any of the above)
---
News/Events
Sep 27 Morning Service- ENCOUNTER
On Sep 27 our online morning service will centre on the theme:

ENCOUNTER.
We recognise that part of our responsibility to each other as a church family includes 'all ages teaching all ages'.
This Sunday we will consider what it means to encounter Jesus. This s
ervice will feature contributions from
Made for More, a local Christian organisation who aim to equip young people with the knowledge and understanding of their value. We'll also hear from all ages in the church family! And our Pastor, Jonny, will remind us that one encounter with the living God should set up many more!
We'd love you to join us at 10.30am as we minister to each other as part of the body of Christ.
'From Him (Christ) the whole body, joined and held together by every supporting ligament, grows and builds itself up in love, as each part does its work.'
Autumn/Winter 2020 Growth Groups
There's still time to sign up for one of our Growth Groups!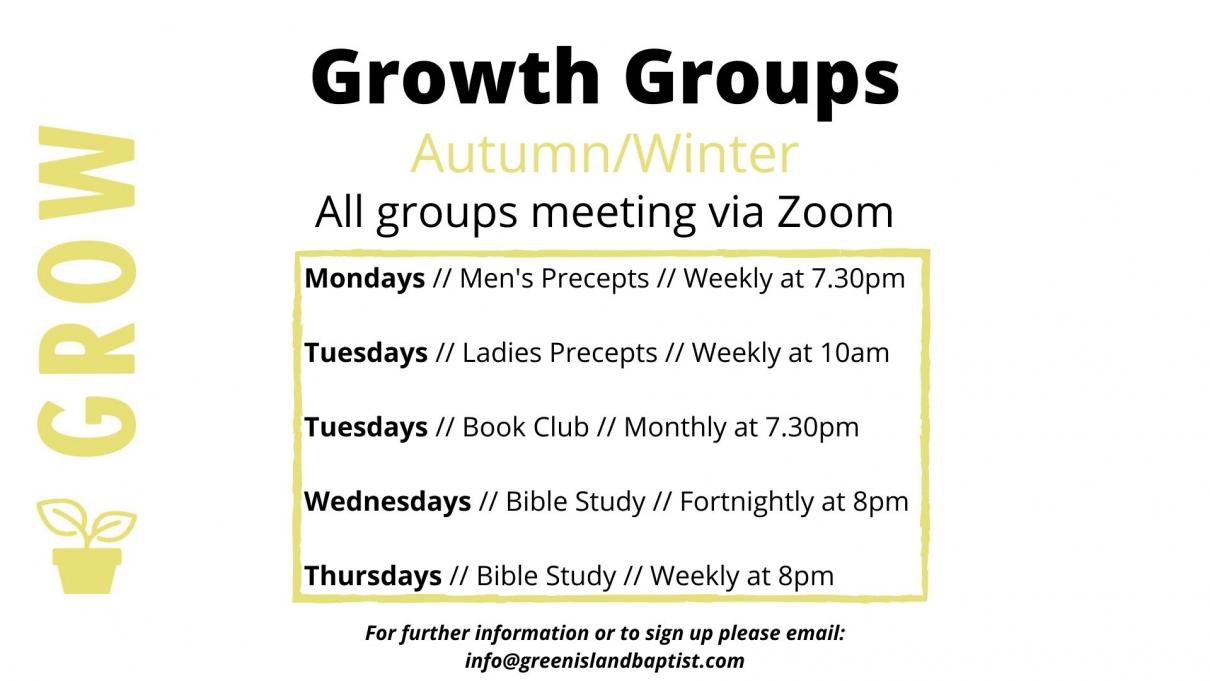 Full details here: https://www.greenislandbaptist.com/blog/growth-groups/
To sign up please email: info@greenislandbaptist.com
Opportunities to Serve
Our Sunday Club team is having a Vision Night on Monday Oct 5 at 8pm via Zoom. If you have ever helped with Sunday Club, Kidzone or Summer Sunday Club then you're warmly invited to attend for an opportunity to meet, share the vision, ask questions and pray into Sunday Club for this coming year.
There is still an urgent need for help in the following areas:
(Please email info@greenislandbaptist if you need more information on any of the above)
October Services
We will be moving to two morning services in the month of October:
9.30am and 11am.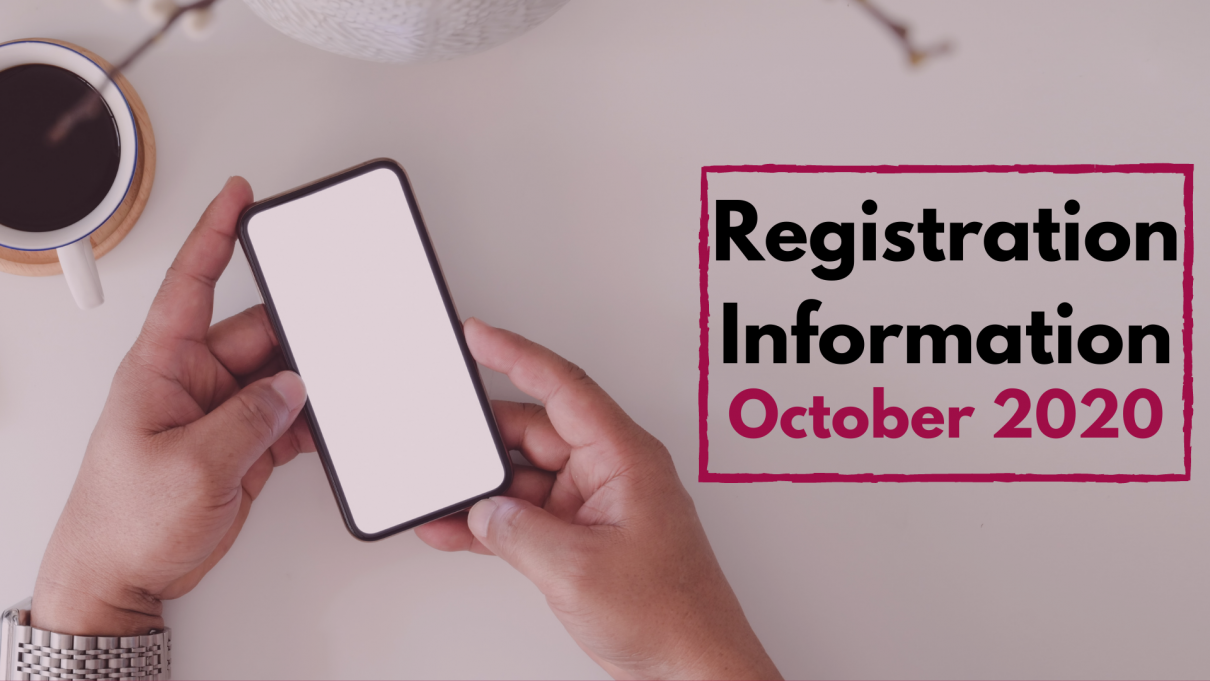 Please follow this link for all the information you need to be aware of: https://www.greenislandbaptist.com/blog/registration-information-for-october-services/
Our evening services will take place on Zoom and we will send you further information about this in next week's update.
---
Continue to stay connected by following us on social media, subscribing to our YouTube channel and visiting our website for all the latest news and information.