Coronavirus Update - 18 March 2020
GBC Coronavirus response: What we're Doing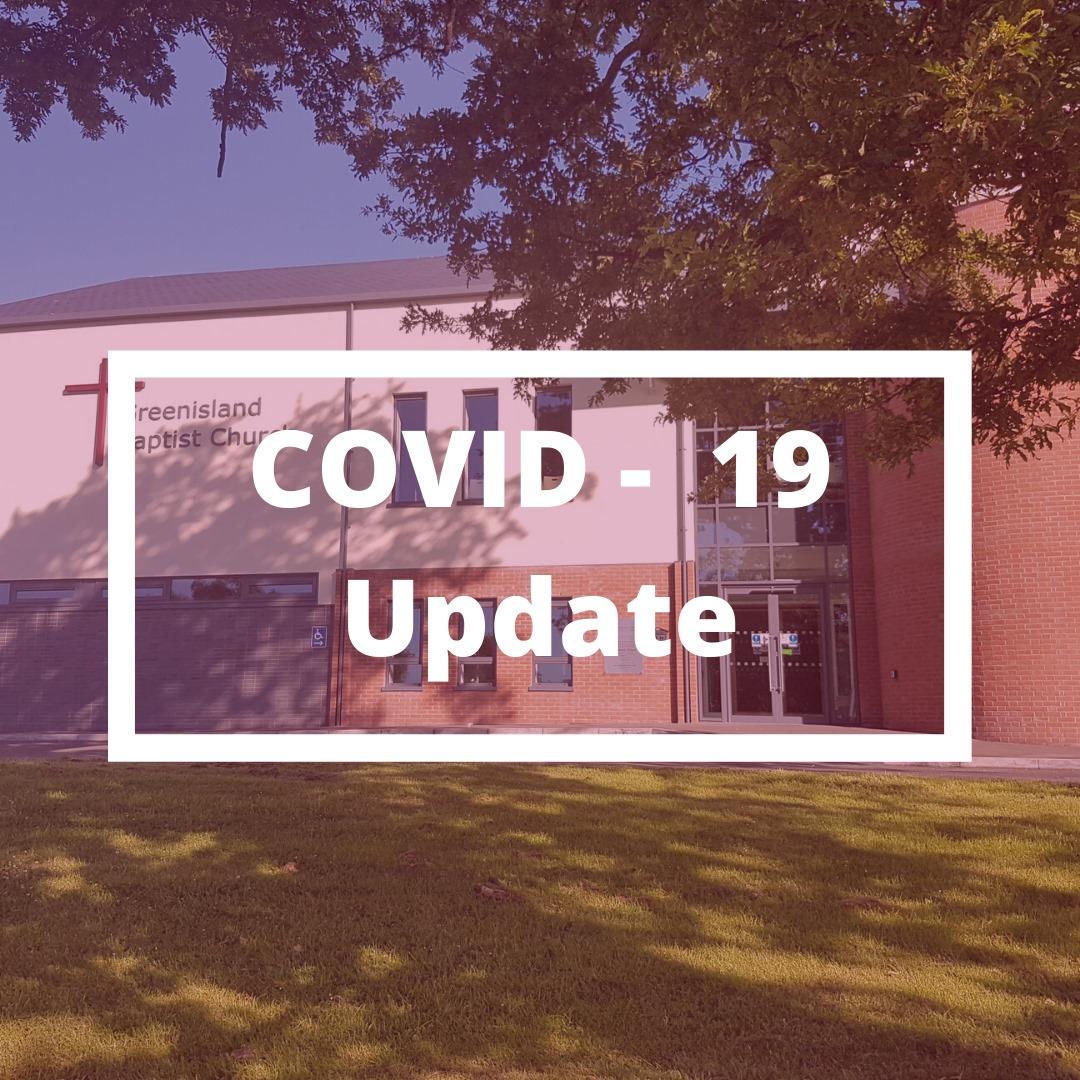 Dear Church Family
Given recent government guidance regarding the Covid-19 Pandemic the leadership have taken the decision to cancel all church activities and worship services until further notice.
Obviously, this is hugely disappointing and a massive shift in how we do church, but we want to be subject to our leaders, and wise in avoiding all unnecessary risks to the welfare of our church family and the wider community whom we seek to serve.
What we will still be doing??
Preaching the word - Our STAND FIRM series in Ephesians 6 will be recorded and can be accessed from this Sunday at 10.30am at www.greenislandbaptist.com or on Facebook
Caring for our people - We are conscious that the current crisis is hugely impactful on all our lives, and that there are also many ongoing pastoral needs in our fellowship. Our Elders and Pastoral Staff will work at keeping in contact with the church family via phone calls and whatsapp messages. As ever if you have a need please don't hesitate to contact any of us. We also know you are excellent at looking out for each other and encourage you to keep doing so!
Serving our community - We are conscious that people will have practical need at this time- if you or someone you know requires assistance with a food hamper Tel:07828 733074.
If you want to contribute items for the hampers, we will receive donations dropped off in the church entry-way every Tuesday between 10am-1pm. You can also help with distribution by contacting Jacqui on the above number.
Praying for each other - The prayer text service will still operate manned by Elders and Staff. If you want to receive prayer, or if want us to relay a prayer request to the wider church you can Tel: 07410 902541.
If you are a regular at GBC and want to be added to this text service and join us in praying for one another just send "JOIN" and your name to 07410 902541
Communicating with you regularly - we will be posting weekly updates on our website and social media platforms to let you know what is happening in the life of the church. We will also be using our Facebook and Instagram to signpost you to useful resources that keep you informed and encouraged during this difficult time.
What can you be doing?
Keep in touch with us -

"let us consider how we may spur one another on toward love and good deeds"

(Hebrews 10:24)
If you haven't already please do check in with Pat, Jamie or Louise to make sure that we have your correct contact details.
Plan your giving -

"For in a severe test of affliction, their abundance of joy and their extreme poverty have overflowed in a wealth of generosity on their part"

(2 Cor 8:2)
You can give to the church by using the following bank details:
Building Fund: Sort: 95-06-11 A/C:10080098
General Fund: Sort: 95-06-11 A/C:20076201

You can give by using the Donate button under the church logo on the left side of the screen of the live-stream.
Pray -

"in everything by prayer and supplication with thanksgiving let your requests be made known to God"

(Philippians 3:6)
Pray for our world, for our nation and for our leaders and front-line workers as we face unprecedented times. People's lives are endangered, and livelihoods affected, all of us are impacted and some are extremely isolated and vulnerable; this naturally leads us to feel anxious and fearful. BUT may we remember the firm hope we have in our good and sovereign God; the same God who so loved this world that He sent His one and only Son.
Pray that God in His grace would lead many to repent of their sin and put their trust in the one who is the way, the truth and the life- the Lord Jesus.
Pray also that God would strive with us as a church in these difficult days, that we would be drawn back to our first love, and grow deeper in the grace and knowledge of Jesus.
Pray that God would see fit to use His church to be salt and light; ministering His love and speaking His truth to others, and welcoming many more into His Kingdom.
"God is our refuge and strength, a very present help in trouble. Therefore we will not fear though the earth gives way, though the mountains be moved into the heart of the sea, though its waters roar and foam, though the mountains tremble at its swelling.
The LORD of hosts is with us; the God of Jacob is our fortress.
Psalm 46:1-3,7