February 2021 - Church Update
Latest church updates and information for February.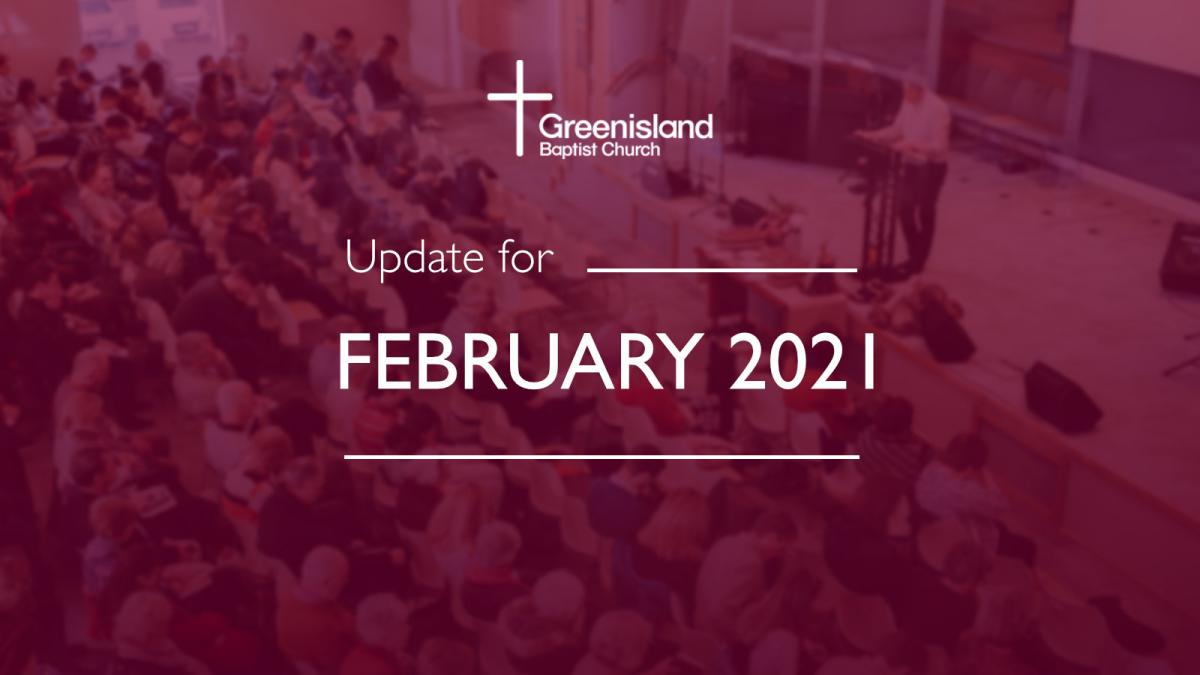 SUNDAY ONLINE SERVICES
Due to the ongoing COVID19 Restrictions and the need to safeguard our congregation, volunteers and staff, we will continue to broadcast our services online. We pray this will not be for much longer and will endeavour to be meeting together in person as soon as possible, DV.
You can to watch our Sunday Morning Services ONLINE at 11am on our usual Media platforms.
---
One Another - Teaching Series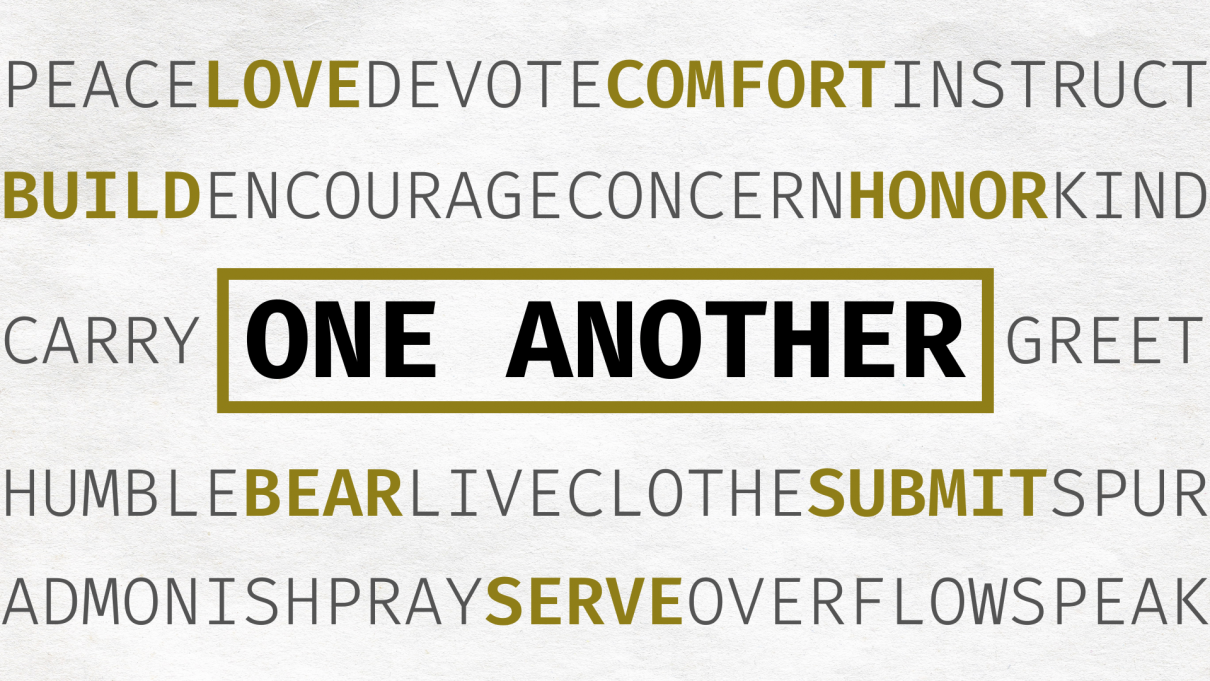 We will continue to work through our new teaching series "ONE ANOTHER" considering how we as a church family can best love and serve one another well, with our attitudes and actions.
Sunday Mornings at 11am (online)
Catch up and listen online at greenislandbaptist.com/series/one-another/
---
SUNDAYS at 7PM
We rcontinue our Rhythms of Grace on ZOOM.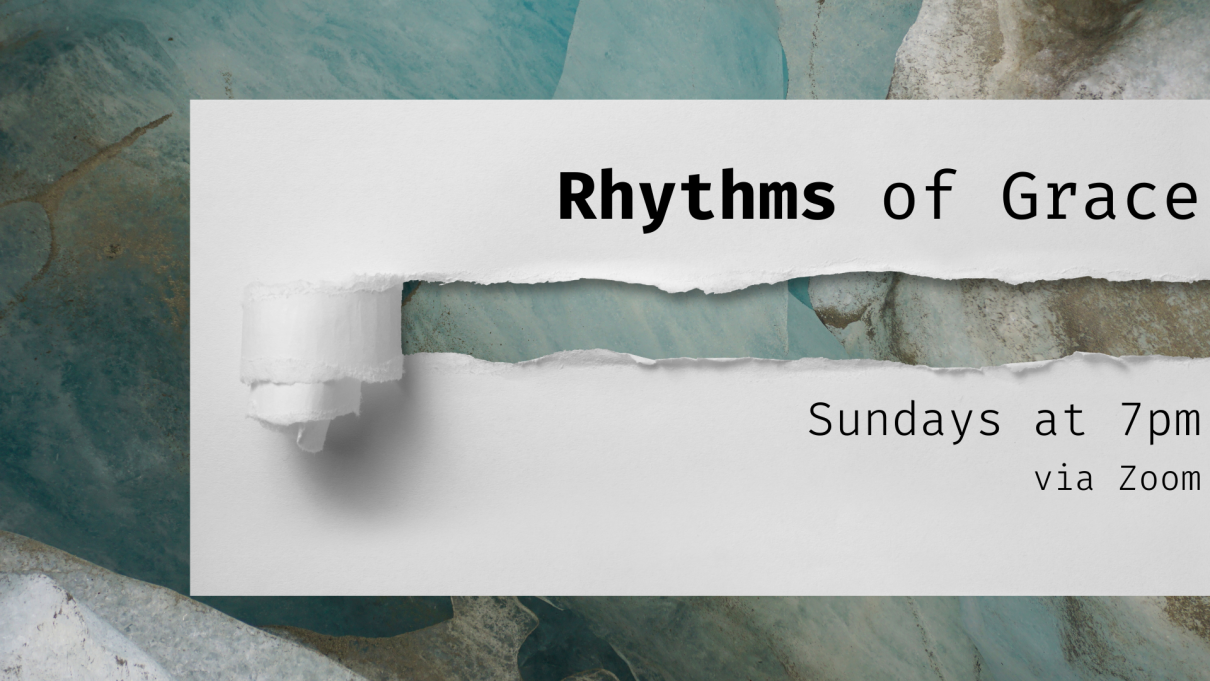 ZOOM Login Details will be in your Update Email or contact info@greenislandbaptist.com
Schedule for February
Feb 7- Prayers of the Saints Lindsay will be leading us in a time of Prayer.
Feb 14- Table Talk Jonny will be sharing with us as we partake in the Lord's Supper together
Feb 21 - Window on the World Catch up with Mark & Hannah Beattie.
Jan 28 - Spotlight Both Lives Matter - Philomena Fitzpatrick
---
OPPORUNTITIES TO GROW…
At GBC we love God's word and we love to get together round it and encourage one another. Even though we can't currently do that in person there are still opportunities for prayer, fellowship and study throughout the week. So, why not join one of our groups. You can contact admin@greenislandbaptistchurch.com or the individual leaders listed below.
Mondays 7.30pm - Men's Precepts Study (led by Stephen Broad)
Starting Jan 18th, doing a six-week study "HOW DO YOU WALK THE WALK YOU TALK". Teaching us to live our lives as true believers of Christ, considering passages in Ephesians.
Tuesdays 10am - Ladies Precepts Study (led by Janet Broad)
Starting Jan 12, studying a book called "THE POWER OF KNOWING GOD"
Tuesdays at 7.30pm - Church Prayer Meeting
Starting Jan 12. We start with a short devotion from God's word picking up on Sundays sermon, share some prayer points and then spend time interceding for the needs of others, and seeking God's will and blessing for our church, community and world.
Wednesdays 8pm - Home Group (Led by Mike & Shona Ewan)
Starting Jan 27, we will be following a series in a book called "INTIMACY WITH GOD" which leads into studying various passages of scripture.
Wednesday 7.30pm - RETHINK Missions Course
Starting Feb 18th, this 6 week course teaches, inspires, and equips everyday people to rethink God's mission through online discussions, and videos. For more information please follow this link - greenislandbaptist.com/blog/rethink-mission-course/
Thursdays 8pm - Home Group (Led by Frazer & Marion Bailie)
Starts 11th Feb. 'No Wonder they Crucified Him!' - suitable for believers and seekers.
for more info please watch this video - https://fb.watch/3qdzRicZCI/
Read more in the report below.
---
CHILDREN & YOUTH

Sunday Club
Although we miss being together in person, we are continuing to send out resources, challenges and songs to our kids each week. Parents are also receiving regular WhatsApp messages and a weekly activity pack and YOUTUBE link so that kids can learn along with us on Sunday mornings during the online service. This term our focus is "Tales that tell the TRUTH".
If you'd like to receive these resources please contact us at sundayclub@greenislandbaptist.com
Kids BIBLE STUDY
Starting Jan 19th and running every Tuesday from 4-5pm on ZOOM.
The Study is geared for 8-12-year olds and we will be looking at the book of ESTHER.
Sign up with Janet Broad. janet.broad@greenislandbaptist.com
YOUTH
Our Youth will be meeting each week on ZOOM at 6pm. This term we are starting a new series called "Navigating".
Keep an eye out for Whatsapp Messages or contact youth@greenislandbaptist.com
---
Jordanstown/Newtownabbey Small Group Report
by Frazer Bailey
We have always been thankful for the friendship and support our small group has so generously provided. During the three Lockdowns the value of the fellowship has never been more appreciated!
In the last quarter we have had around 15 people joining virtually every Thursday night from 8pm to 9pm-ish. We have completed two great studies: The Theology of Paul and an exploration of the Trinity.
The study has been great and the participation, despite Zoom, has been remarkably natural. We usually then have a time of prayer to support the work of the church our community and to help us apply the teaching from the study.
Often, those who have time, stay on for a bit of a chat and a catch up. The banter is good and brings some sort of normality to these strange times. Every month we also host a Saturday night quiz or virtual board game (optional). These nights really help to gel the group and allow us just to let off some steam and have fun. I have to admit, I was corrected by some of the group for being too competitive!
We are now looking forward to the run up to Easter. On Thursday 11th February we are beginning a new Easter series entitled: 'No Wonder they Crucified Him!' This six week series examines how the character and witness of Jesus impacted the Jewish and Roman authorities. He was so good, He was dangerous! We pray that this study will make all participants consider how they have responded to the radical call of Christ.
We would invite any of you who are interested to join up with us for tor this six week study. To enrol simply email us at info@greenislandbaptist.com
All the materials are free and will be shared with you electronically prior to the study beginning. This course is designed for all Christians and those who are still considering how they should respond to this man called Jesus.
Every Blessing,
Frazer