Growth Groups
Autumn/Winter 2020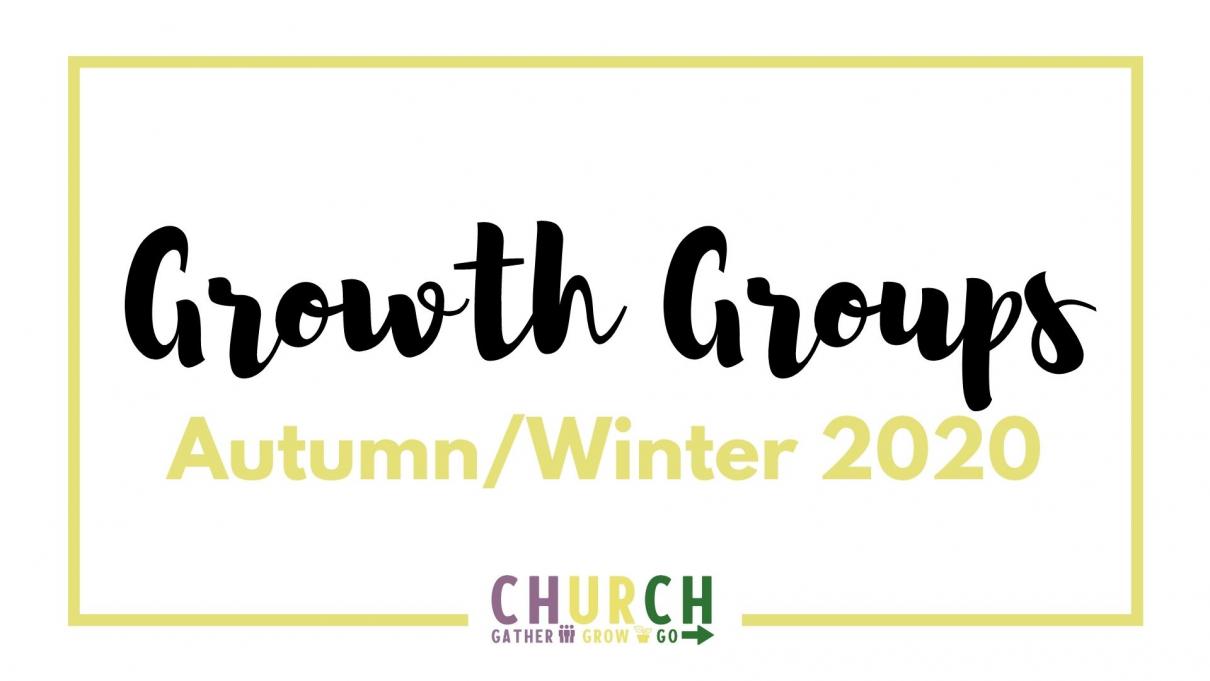 CHURCH: Committed to GROW
Autumn/Winter Growth Groups
As part of our new teaching series CHURCH we recognize that we are 'Committed to GROW' – both personally and collectively. This Sunday we will launch a new season of Growth Groups at GBC. Growth Groups are an opportunity to meet with others in smaller groups to study God's Word and to share fellowship together.
**Please note that due to current regulations all Growth Groups will begin the year on Zoom.**
Here are the options available:
Mondays - Men's Precepts Study
Weekly at 7.30pm (from Oct 12)
'How to make choices you won't regret' is a 6 week, no homework bible study about how the decisions you make today can shape your life tomorrow. Taking you through the Old and New Testaments and using examples of King David, King Josiah, and Jesus Himself.
Group Leader: Stephen Broad
---
Tuesdays - Ladies Precepts Study
Weekly at 10am (ongoing)
Currently studying Philippians, the Ladies Bible study are looking forward to welcoming new members as they move to a new study.
Group Leader: Janet Broad
---
Tuesdays – Book Club
Monthly at 7.30pm (next meeting on Nov 24)
The next book under the spotlight is 'You'll get through this' by Max Lucado. This book considers the Old Testament story of Joseph and the great truth that God wove what was meant for evil into good. You can purchase a copy of the book here: https://www.amazon.co.uk/dp/1400379261/ref=cm_sw_em_r_mt_dp_7ezMFbGPWWRZB
Group Leader: Jonny McGreevy
---
Wednesdays – Homegroup Bible Study
Fortnightly at 8pm (from Oct 7)
Journey through 2 Corinthians considering the Gospel in all of life. For Paul, gospel ministry is what we all do. It is walking with, speaking for, and serving Jesus in all of life—and so this letter is written for all of us. Taking us through how to live by faith as broken people in our broken world. It provides the key to embracing our weakness and living in the strength which God himself supplies.
Group Leaders: Tim and April Matchett
---
Thursdays – Homegroup Bible Study
Weekly at 8pm (from Oct 1)
'Two for One' study. October to early November 'Haggai - Being a Pillar in God's House' November to early December 'Four Songs of Advent'. All study materials provided via a free e-workbook. No homework required!
Group Leader: Frazer Bailie
---
Thursdays - New Inductive Study Series
Fortnightly at 7.30pm (from Oct 8)
The 'New Inductive Study Series' (NISS) is based on learning from a small amount of self-study and discussing with others at meetings. The focus for this study is 1 John and will take place on alternate Thursdays for about an hour.
Group Leader: Janet Broad
---