Registration in November
All the information you need to attend GBC in November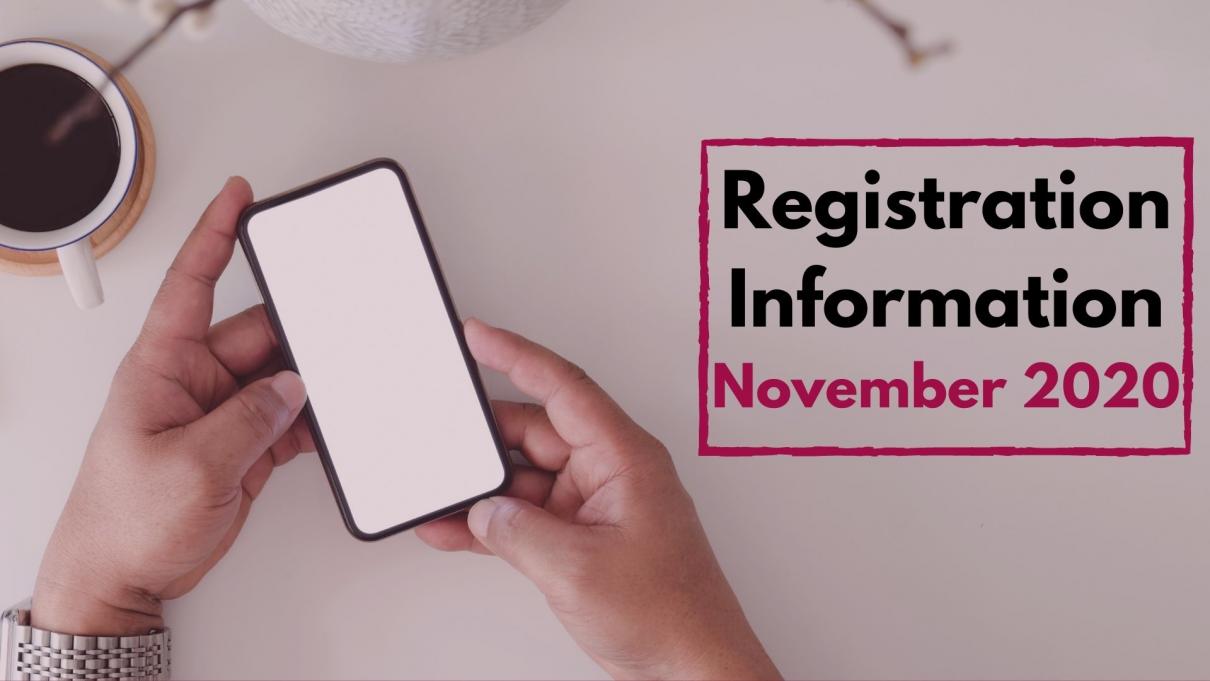 Registration in November
During this month we will be continuing to offer two morning services split by surname: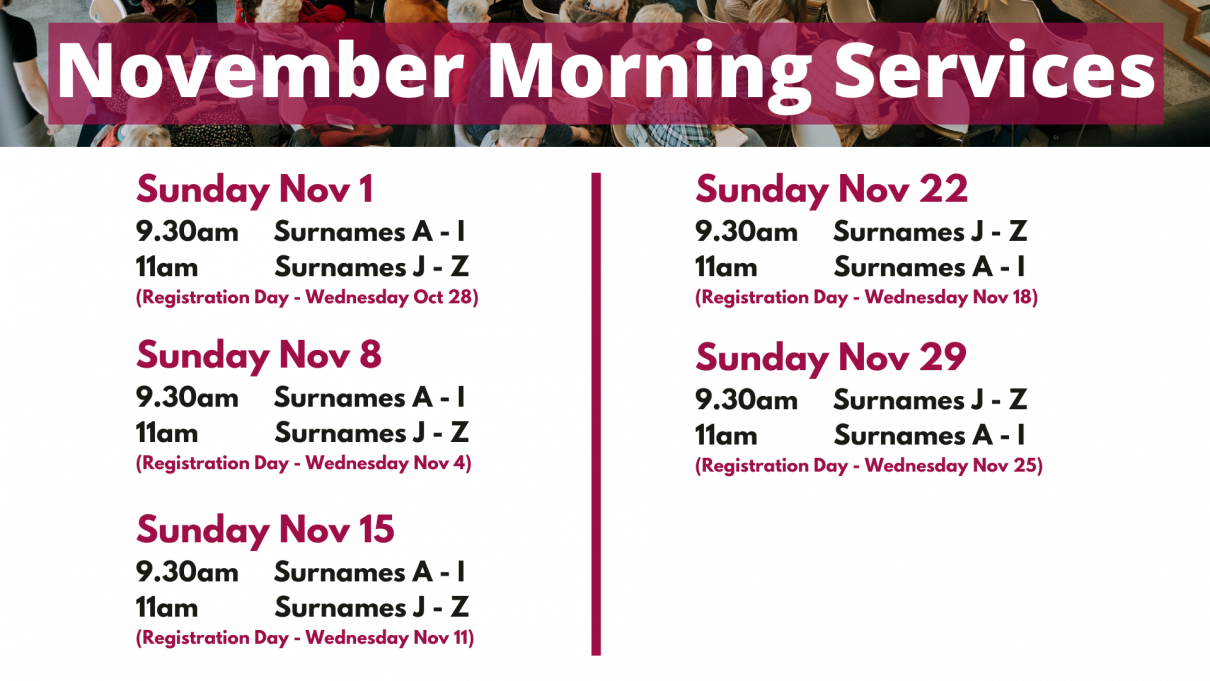 You will need to register to attend a service. Registration opens on Wednesdays from 9am to 9pm.
Please register by texting 07536 993212 with the following details:
Your Surname

The number of people who will be attending from your household
Only one person per household needs to register. You will receive a text by the weekend of the service confirming your place.
We would ask you to please consider the following questions before texting to register:
Have you been confirmed as positive for COVID-19 within the last 14 days or currently awaiting results?
Are you self-isolating due to recent travel and/or close contact with a confirmed case?
Is anyone in your household experiencing any symptoms of coronavirus - high temperature, a new continuous cough or a loss or change to your sense of smell or taste?
If your answer is YES to any of the above questions please do not register to attend.
---
Watch Online
There are a variety of reasons why you may not be able to attend the service. We are working hard to livestream the 11am service each week so you can join us for worship from home. Services will also be made available afterwards on our various video channels:
Greenisland Baptist Website
https://www.greenislandbaptist.com/
YouTube Channel
https://www.youtube.com/GreenislandBaptistChurch
Sermon.net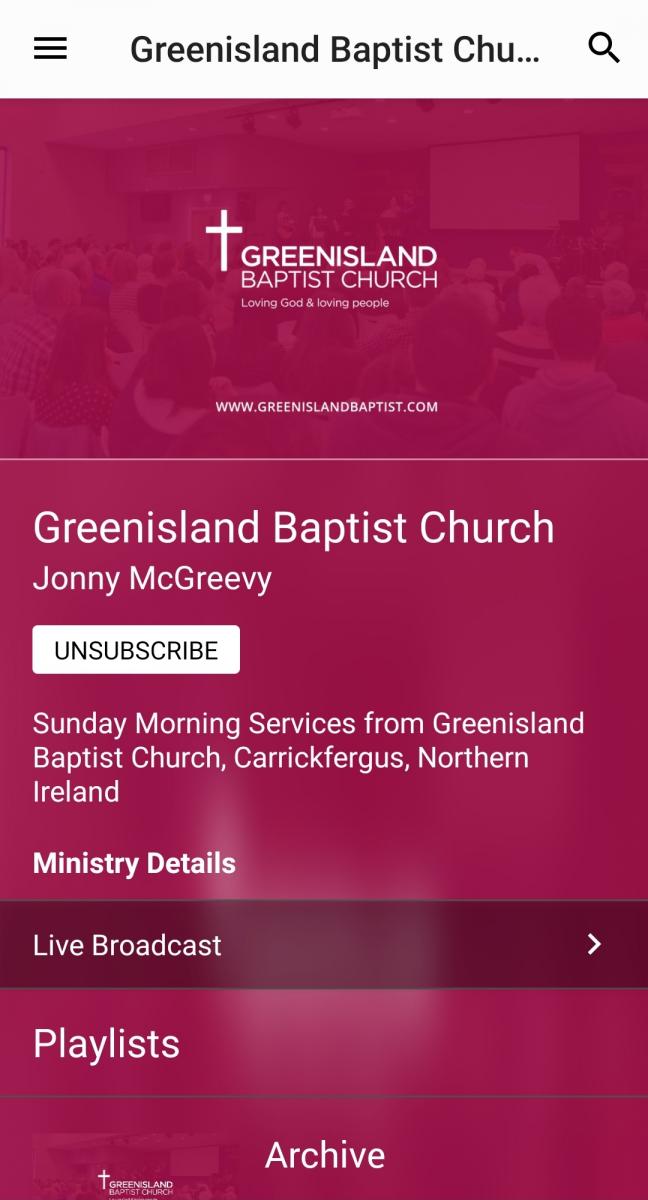 Download the Sermon.net App
Sermon.net have a new app where you can watch live and recorded services from thousands of Christian Ministries including Greenisland Baptist. This app is ads-free and sermon.net is a non-profit with the mission of spreading God's Word on
line.
Once you have downloaded and installed the app, search for 'Greenisland Baptist Church' in the ministries section, then subscribe to our channel. Notifications will be sent to you when we are broadcasting. You can also access past services here.
Download the app here:
Android Devices
https://play.google.com/store/apps/details?id=net.sermon.sermon.net&hl=en&gl=US
Apple Devices
https://apps.apple.com/us/app/sermon-net/id385060535
We are currently looking at the development of our own app for Android and Apple which will hopefully include other areas of church life.
---
Face Coverings
We are continuing to encourage attendees to wear face coverings THROUGHOUT the service in order to facilitate low level singing. According to NI Executive a 'face covering' should:
cover your nose and mouth while allowing you to breathe comfortably
fit comfortably but securely against the side of the face
be secured to the head with ties or ear loops
be made of a material that you find to be comfortable and breathable, such as cotton
ideally include at least two layers of fabric (the World Health Organisation recommends three depending on the fabric used)
unless disposable, it should be able to be washed with other items of laundry according to fabric washing instructions and dried without causing the face covering to be damaged
More details regarding face coverings can be found:
https://www.nidirect.gov.uk/articles/coronavirus-covid-19-face-coverings#toc-4
While under 13s are generally exempt from wearing face coverings we are asking parents/guardians to bring a covering for their children to wear during the singing parts of the service.
---
Please note that all this information is subject to change as we look to guidance from the NI Executive. We appreciate your continued support and patience as we work through this fluid situation.