Stand Firm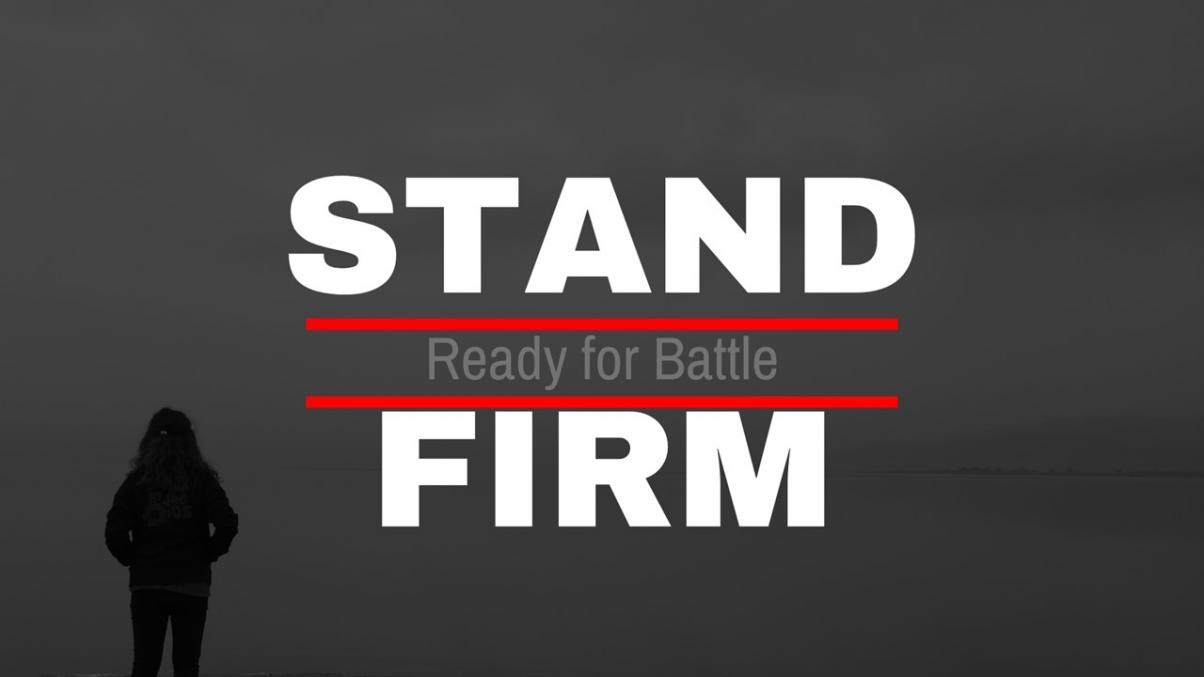 Ready for Battle
Isn't being a Christian about being a lover not a fighter?
Yes it's true; Jesus has called us to a life of loving Him and loving others. But the bible also says that when we decide to follow Jesus and live that life of love, we automatically find ourselves at war. In fact we will encounter opposition on multiple fronts.

First there are the attacks of the devil. He tries to ambush us with His lies. He wants nothing more than for us to doubt God and His goodness, and to stop trusting His many wonderful promises to us.

Then there is the world around us, full disbelief. You've maybe worked out by now that the majority of people out in the world out there have no time for God at all; they are too caught up in living their own lives and doing their own thing as if He doesn't even exist. These people are not the enemy, but their lack of faith (or even opposition to faith) can discourage and even distract us from putting God first in our lives.

But you know more often than not, in the battle to follow Jesus we can be our own worst enemies. We set ourselves up for defeat by simply not obeying God's clear instructions. The apostle Paul tells us in Ephesians 6 that if we want to live a victorious Christian life we need to get dressed!

'Therefore, take up the whole armor of God, that you may be able to withstand in the evil day, and having done all, to stand firm.'

We wouldn't go to school without our uniform on; we wouldn't attend football practice without our kit, or a Wedding without fancy formal attire. So why are we so badly dressed when it comes to following Jesus? Why are we on the battle field without the armour our captain has provided and instructed us to wear?

If we would only get dressed, properly we would not only find ourselves ready for battle, but assured of the great victory to come!
Listen
One Last Thing - Pray

3rd May 2020
Jonny McGreevy
Ephesians 6:18-25

The Sword of the Spirit

5th Apr 2020
Jonny McGreevy
Ephesians 6:10-18

The Helmet of Salvation

29th Mar 2020
Jonny McGreevy
Ephesians 6:10-18

The Shield of Faith

22nd Mar 2020
Jonny McGreevy
Ephesians 6:10-18

Shoes of the Gospel of Peace

15th Mar 2020
Mike Ewan
Ephesians 6:10-18

The Belt of Truth

8th Mar 2020
Jonny McGreevy
Ephesians 6:10-18

The Breastplate of Righteousness

8th Mar 2020
Jamie Dill
Ephesians 6:10-18

Our Call - To Stand

23rd Feb 2020
Jonny McGreevy
Ephesians 6:12-13

Put on & Stand Firm in Jesus

16th Feb 2020
Jamie Dill
Ephesians 6:11

Stand Firm - Ready for Battle

9th Feb 2020
Jonny McGreevy
Ephesians 6:110